Salt and Pepper Mills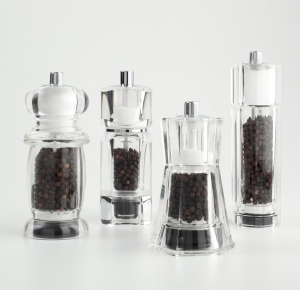 T&G's mission is to design, produce and responsibly source, exceptional quality kitchenware products that withstand the demands of real life.
T&G's Combi mills are perfect to shake salt and grind pepper from one convenient 2-in-1 mill. Simply shake salt from the top and grind pepper from the base of the mill. The pepper mill section has different settings to adjust from a fine to coarse grind.
To refill salt, unscrew the shaker cap or remove the salt chamber altogether to refill with peppercorns. The grinder shaker features a non-corrosive ceramic grinder that won't absorb flavours or odours and is easy to clean.

The T&G Classic Mills collection have been designed to reflect all tastes, salt & pepper mills are available in a choice of different materials including crystal clear acrylic, hevea, beech, copper finish and coloured wood.
All T&G Classic mills have fully adjustable ceramic mechanisms:
No metal grinders to corrode
No plastic grinders to wear out
Lifetime mechanism guarantee
ALL T&G salt, pepper and spice mills, both CrushGrind® and Classic, have ceramic mechanisms which means no metal grinders to corrode and no plastic salt grinders to wear out and all come with a LIFETIME MECHANISM GUARANTEE!
Shop our full salt, pepper & spice mill ranges and don't forget the accessories!