Environmental Policy
Environmental Policy
"In all areas of our business we expect to act responsibly. Timber is a precious resource in terms of both its own life and of the diverse flora and fauna it supports. T&G pay particular attention to the products we manufacture and buy, their sustainability and suitability for our increasingly environmentally concerned customers and consumers."
Patrick Gardner – MD
With the focus on the natural world, T&G's commitment to ethical sourcing is a priority. We have successfully reduced our carbon footprint by removing any unnecessary packaging on products.
Environmental concerns are central to T&G's business as our product range is predominately wood. The policy of the company is to try, where possible to ensure that all T&G products are manufactured from timbers sourced from well-managed and sustainable forests and plantations.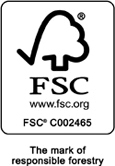 T&G have been at the very forefront of developing the market for sustainable wooden Housewares products in the UK and overseas and were one of the first members of the World Wildlife Federation 95+ Group. (WWF 95+).
T&G have held FSC® certification since 1999, and the FSC® logo on our products provides you the customer with an independent guarantee that the forest is managed according to agreed social, environmental and economic standards. Today over 70 of our products are certified according to the FSC® principles. We are continually adding to this number and introducing new ranges, with many of our products coming from European FSC® sources.
Please look for the FSC® logo against certified products.