New Glass Bottles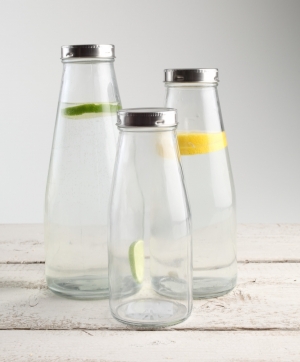 NEW IN......Refill, re-use, recycle!
Introducing a range of glass bottles from T&G, easy to clean and re-use, these glass bottles are perfect for keeping water chilled, smoothies fresh, storing freshly made gazpacho or even keep your milk fresh.

Glass bottles keep liquids clean and fresh, preserve taste and as a result are better for your health.

Glass is a fully recyclable material which provides great environmental benefits, reduces climate change and saves precious natural resources, it can be recycled over and over again.

These organic shaped glass bottles with screwtop lids in 3 sizes are not only functional, help the environment but are an elegant addition to any table.

These glass bottles join T&G's extensive range of glassware, our glassware collections which include storage jars perfect for storing and keeping contents fresh, salt and pepper shakers and domes that fit a variety of our wood boards and are perfect for keeping cakes and treat fresh. This glassware collection combine organic shapes, elegant designs and attractive finishes to form a great selection of casual kitchen pieces, that can also be given as gifts.
Take a look at our glassware collections.....