Good Morning!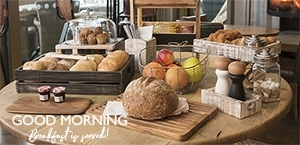 Enjoy your breakfast or brunch in style....
Eggsplore...loads of brillaint breakfast serving ideas including wooden serving boards, bread cutting boards, glass storage jars, crates for corissants and pastries, salt and pepper mills for seasoning.
Breakfast is the first meal of the day and probably the most important...make it something to look forward to....from pancakes, healthy muesli, poached eggs or a traditional English.
The choice is yours...enjoy!