Autumn is here...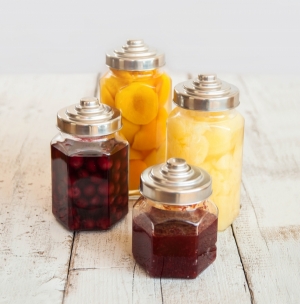 Have you grown your own during lockdown? why not make the most of your home grown crops whether it's fruit or veg and start pickling or making jams?
If you have a glorious crop of vegetables or an abundance of fruit why not capture all those fantastic flavours and and make some chutney, jams or pickles.
Seal all the flavours in glass storage jars....glass jars and bottles keep contents fresh and preserve taste.
Glass is a fully recyclable material which provides great environmental benefits, reduces climate change and saves precious natural resources as the glass jars can be used over and over again.
Why not give as a gift this Christmas? These gorgeous glass storage jars and glass bottles make the perfect gift and once loved ones have enjoyed and shared the home made treat they can re-use the jars and bottes...it's the gift that keeps on giving! Why not add that special touch and use chalk tags to list ingredients or write a special message or greeting!
T&G's glassware collections include storage jars and glass bottles perfect for preserving and keeping contenst fresh, salt and pepper shakers for seasoning, and domes that fit a variety of our wood serving boards, keeping cakes and treats fresh.
Our glassware collection combine organic shapes, elegant designs and and attractive finishes to form a great selection of casual kitchen pieces, that can be given as gifts.
TAKE A LOOK AT OUR GLASSWARE COLLECTIONS.....