Wooden Chopping Boards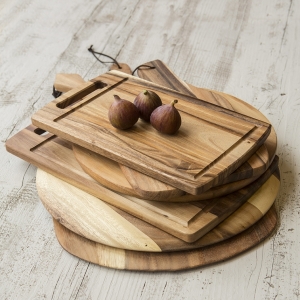 Let nature take the grain......
Looking for a stylish wooden chopping, serving and presentation board that suits both a traditional and contemporary kitchen? Here are some tips to follow and discover unique designs from T&G.
If you are looking to refine your chopping, serving and presentation skills, here are some easy steps to follow:
Step 1 Choosing your natural wood board
Start with the basics - Choose a natural wood chopping, serving and presentation board, wooden boards come in a variety of different sizes and shapes from round, square, rectangular to the large end grain boards. Choose from different woods to create different looks, from hevea, acacia which is a dark wood, rustic acacia.
Step 2 Entertaining with your wood serving board
Share & Serve - Placing wooden serving boards on the dining table creates a relaxed dining atmosphere. Choose from a variety of different styles and shaped wooden boards from round to rectangular, footed and flat to delight and inspire. Perfect for entertaining and al fresco dining!
Step 3 which wooden board is best?
Why choose a wooden chopping board? Incredibly hard wearing, natural beauty, naturally anti-bacterial and kind to knives!
Step 4 Caring for your wood chopping board
Caring for your wooden chopping board - wood is a product that appreciates care, a wooden board should never be stood upright on its jointed end to dry. To clean simply wipe over the surface with a damp cloth or wash in warm soapy water, do not soak, dry immediately. To prolong the life and prevent splitting of your wooden chopping board an occasional wipe with T&G's wood oil does much to restore the original natural appearance
For the perfect accompaniment to your chopping and serving needs, shop our boards & platters collection.